Rondo has recently partnered with Kids Under Cover, a not-for-profit Australian organisation which works tirelessly to prevent youth homelessness. Their model is simple: Building studio homes for homeless and at-risk young people, and supporting their education through scholarships and mentors, so that they are empowered to take responsibility for their own lives.
There are many ways in which Rondo will be supporting Kids Under Cover, with the more recent support being in the way of a joint golf event for Rondo customers in Victoria. Approximately 80 Rondo employees, customers and suppliers were in attendance, some of which flew interstate just to participate in the highly-anticipated event. There were two golfing competitions held for the 'straightest drive' and 'least putts'.  Attendees had the opportunity to participate in each competition for a small donation, with all funds donated directly to Kids Under Cover.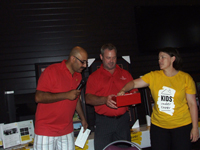 After a few rounds of golf, Rondo also held an auction which had attendees biding on sporting memorabilia. With all activities considered, the Rondo VIC 2013 Golf Classic raised $2,000 for Kids Under Cover, enough to pay for two scholarships for young people at risk of homelessness – but that is only the beginning".
Rondo will continue working with Kids Under Cover to help raise awareness in their fight to alleviate youth homelessness through promotional support and charitable activities, with the goal of raising enough money to provide Kids Under Cover with one relocatable studio each year. Each studio apartment helps up to 5 families over the course of its life.
To find out more about Kids Under Cover, visit www.kuc.org.au today or follow them on Facebook.