A major component of steel wall and ceiling supply and delivery is managed by the Rondo supply chain team. Without them, getting the products to the clients would be a significant challenge.
The expertise and continued innovation of the team helps the entire Rondo operation run smoothly. We sat down with the Group Manager of the Supply Chain Team Michael Mills to discuss what it is that makes his team tick, and why Rondo is the first choice over its competitors. Read on to find out more.
Supply chain - what does the team do?
One of the biggest tasks the supply chain team handles, and one of the most vital for the production of Rondo products, is the sourcing of steel.
"The supply chain group has a couple of areas of responsibility," said Michael.
"The overall procurement of steel, consumables and finished products is the largest responsibility of the supply chain team."
The overall procurement of steel is the largest, including sourcing of competitive steel coils for the manufacturing in Australia, New Zealand, Malaysia, India and the Middle East. The group also manages the movement of finished product to our state based distribution centres and customers.
"We manage the movement of the outbound products too, including delivery to the New South Wales customer base. We move products by road, rail or sea, whatever the company or our customers need."
Rondo manufactures everything from wall and ceiling systems to access panels that hide electrical cabling. That's all made from steel, so without the raw material, there would be no production.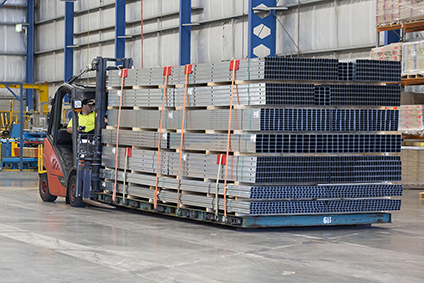 Helping Rondo to the top
Rondo is a market leader when it comes to delivering high quality products and an unmatched level of service. One of the best ways that the entire Rondo team can stay ahead of the competition is to offer a high quality product to sit alongside service and delivery.
"Our main role is to ensure we are sourcing our raw materials at a globally competitive price," continued Michael.
"We ensure customer and distribution centre transfers are filled with no errors, so that upon delivery, work doesn't have to be interrupted because the product is incorrect and needs to be changed. Our customers understand the importance of having the correct product delivered on-time and in full, and when they work with Rondo, that's exactly what they'll get. We do that for both New South Wales customers, along with making sure each state or territory has the right amount of product when they need it."
The distribution of Rondo products from our Erskine Park warehouse is also extremely efficient and innovative as a result of the implementation of the Sea-freight Loading Chassis (SLC) packing system, which provides quick and easy loading/unloading of shipping containers.  The SLC along with our scissor lift table and the help of a skilled operator can load any one truck in two and a half minutes.
Due to Rondo's global presence, with suppliers and a large manufacturing footprint, finding the best price for steel at any given time is a lot easier. Rondo doesn't cut any corners when it comes to providing high quality steel products at a competitive price.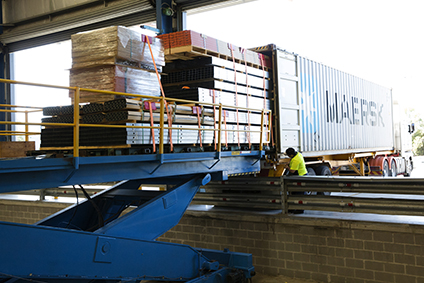 "Rondo is unparalleled in the market. We have great speed to market, delivery guarantees, and all of our products are above industry benchmarks. We provide guidance on safe handling and storage of our products. We also publish a lot of material that helps with installation and what the industry is working toward, so people know they can turn to us for any information they need.
"At the moment, we're working with some of our customers to trial afternoon/evening deliveries as well. This is so we can see if it will work for certain companies, and to iron out any creases in the process."
What makes the team so great?
Having the right employees in a team makes providing the best service much easier. Michael believes he's got the best people, and that means the right things just happen naturally.
"We're a small and dynamic team," commented Michael.
"We have to be adaptive, which means everyone needs a handle on what each other does."
"Our focus has to be cross-functional to ensure we provide coverage across all areas. We have to be adaptive, which means everyone needs a handle on what each other does. If one person is sick or off work, someone has to step up and fill the gap, and if we have people across all of the responsibilities, then there won't be any down-time. That's something we work hard to ensure.
"We have worked with our line haul supplier to provide a drop-and-swap service in the states. We used to have to unload the truck as soon as it arrived, generally in the busy morning period when we are loading local customer deliveries, which meant the team slowed down, but now we have arranged for the truck to leave the trailers so they can be unloaded whenever it suits us and doesn't interrupt customer loading or deliveries. We don't have to drop everything, and it also gives the truck driver a chance to rest.
Why choose Rondo?
Rondo is a one-stop shop for every steel product you might need. For the best warranty and technical support, there's no other choice. Rondo's expertise is made even better by our international footprint, and a major focus on the safety of our clients and employees.
"To me, it's all about having the right people. If you have the right people, you can achieve great things. The right people just make things happen."